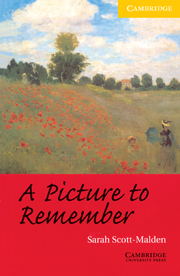 She saw two men in the car... One of the men had a gun... she saw a tattoo of a flower, a red poppy, on his neck. (p.7)
Hello. I read
A picture to Remember,
a level 2 book in Cambridge English Readers series. It is interesting.
Cristina is a woman who works in the Museo Nacional de Bellas Artes. She loves
art
.
One day she saw two men in the car. Then, unfortunately,
s
he had a traffic accident. she lost her memory that saw them. However, two men try to kill her before she tells the police what she saw. Who are two men? Is Cristina's memory recall?
Please read it.
A Picture to Remember
. Sarah Scott-Malden. CAMBRIDGE ENGLISH READERS.